Wednesday, November 8th, 2006
---
4:18 pm
- What up?
I haven't updated this thing in A REALLY LONG TIME.

I don't have much to say...

I am past due on my credit card because I'm out of money...

I just got a C on my Spanish Midterm... I'm doing my best to pull a C+ in that class God-willing

and yet...

I've been in the most AMAZING mood since... Saturday.

I haven't felt like this in a REALLY REALLY long time.

If we are close friends then you probably know why...

P.S.---I thought I'd let you all kow that I'm bringin' sexy back ;)

current mood:
indescribable
Thursday, July 27th, 2006
---
11:27 am
- A Song to learn from...
A Song to learn from...
This is a song that I enjoy very much because of the subject. I'll try to translate as best as I can, but I don't know all the words... the Title means "In the Narrow Bosporus". This is about a Greek Orthodox Christian and a Turkish Muslim upset over the things going on against each other's people, since they are friends.


Μες του Βοσπόρου τα στενά

Μες του Βοσπόρου τα στενά
ο Γιάννης κλαίει τα δειλινά
και ο μεμέτης πλάι του
πίνει και τραγουδάει του

Τούρκος εγώ κι εσύ Ρωμιός
κι εγώ λαός κι εσύ λαός
εσύ Χριστό κι εγώ Αλλάχ
όμως κι οι δυο μας αχ και βαχ

Με λίγη αγάπη και κρασί
μεθάω κι εγώ μεθάς κι εσύ
πιες λίγο από το τάσι μου
αδέρφι και καρντάσι μου

Τούρκος εγώ κι εσύ Ρωμιός
κι εγώ λαός κι εσύ λαός
εσύ Χριστό κι εγώ Αλλάχ
όμως κι οι δυο μας αχ και βαχ


In the narrow Bosporos

In the narrow Bosporos
Yanni cries ta deilina (I don't know this word)
and Mehmet comes by
drinks and sings to himself

I am a Turk, you are a Greek
and I am people and you are people
You are Christ and I am Allah
however we are two ah and bah.

With a little bit of love and wine
I become drunk and you become drunk.
Drink a little from my cup
my Aderfi ("brother" in Greek) and kardasi ("brother" in Turkish)

I am a Turk, you are a Greek
and I am people and you are people
You are Christ and I am Allah
however we are two ah and bah.


I'm sorry if I couldn't translate each world. This song means a lot to me. It shows that people are people no matter what background or religion they are from.
12:38 am
- Samaritan Music?
Samaritan music, which is supposed to be a direct descendent of ancient Hebrew music is performed in the EXACT same way as Byzantine music. Heck, their synogogues even face east like our churches do.

...I think this goes to show something about Eastern Orthodoxy.



Vocal Music

Samaritan music is vocal music, unaccompanied by instruments, handed down over the one hundred and thirty generations of the ancient Israelite-Samaritan people in the land of Israel. It has been passed on in two ways:

1. Through formal study, with every Samaritan boy and girl studying for about an hour a day with Samaritan teachers at the Community Center when they come home from their regular school. They learn reading, liturgy and poetry in ancient Hebrew and in the Aramaic dialect still used today by the Samaritans.
2. By Participation in prayer services at the Samaritan synagogue every Sabbath and festival.

Thus the musical tradition is preserved, with its thousand different songs and melodies, some of which are sung in prayer services and secular ceremonies, on Sabbath and festivals and on joyous as well as sorrowful occasions. Some of the songs are handed down directly, a clear echo of ancient Israelite song, some were written by Samaritan composers in the latter half of the first millennium and some in the first half of the second millennium era.

Samaritan music is in part composed of variations and coloratura phrases which cannot be followed by the written musical score, but in part has a rhythmic unity, which facilitates writing musical scores and musical arrangements for it. Musicologists have indeed tried their hands at this with varying degrees of success.

Nonetheless, the uniqueness of Samaritan music still stands out. The performances of the Samaritan Singers emphasize the three most striking features:

1. LEFT AND RIGHT SINGING: Those who pray in the synagogue, which faces east, are divided into two groups. Members of the first group are known as Rightists, and sit on the right side of the synagogue. Members of the second group are called Leftists and sit on the left side of the synagogue hall. There are prayer hymns with 22 stanzas, the same number as the letters of the Hebrew alphabet, and each verse has four short lines. The Rightists begin to sing the first verse and when they get to the beginning of the third line, the Leftists begin to sing the second verse. In this way all congregants continue singing to the end of the hymn, each side singing its own verses. The Rightists sing the odd-numbered stanzas while the Leftists sing the even-numbered ones. The cantor of the synagogue always joins the Rightists.

2. TRILLS- ADDING SYLLABLES NOT IN THE TEXT: This is also a characteristic unique to Samaritan music. The singers sing a given version but to embellish the song, they add many phrases not among the syllables comprising the words of the given text. In this manner two words can at times be sung for over two minutes, by adding a variety of syllables and trills which are not part of the text. For example, the word "kamu" from the verse: "the depths have covered them: they sank into the bottom like stone." (Exodus 15:5) or in ancient Hebrew, "yaradu bammasalot kamu aaben", is sung just like this: kaaawaanuwwa'awwa'aaawwanuwwa'aamu'oooau'aoo'unwoo'aoo.

3. SINGING A GIVEN TEXT WITH A VARIETY OF MELODIES: There are many texts which are sung with different melodies according to occasion – secular, Sabbath, festival or pilgrimage. Thus, for example, the Song of the Day can be performed with more than ten different melodies.
Thursday, July 13th, 2006
---
11:42 pm
- Ah!!!! Memories!!!!!
Aproximately 6 months and 8 days until I return here: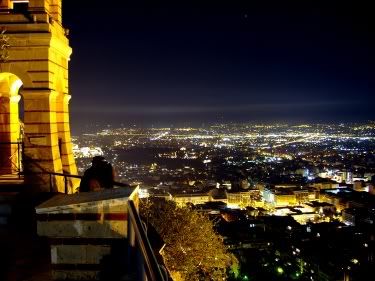 I'm SOOOOOOO happy about returning. My mother approved it the other day which means its essntially final!!! I'm returning to Athens for another 6-7 months!!!

I lived off this street!!!:




My school was RIGHT NEXT DOOR to this: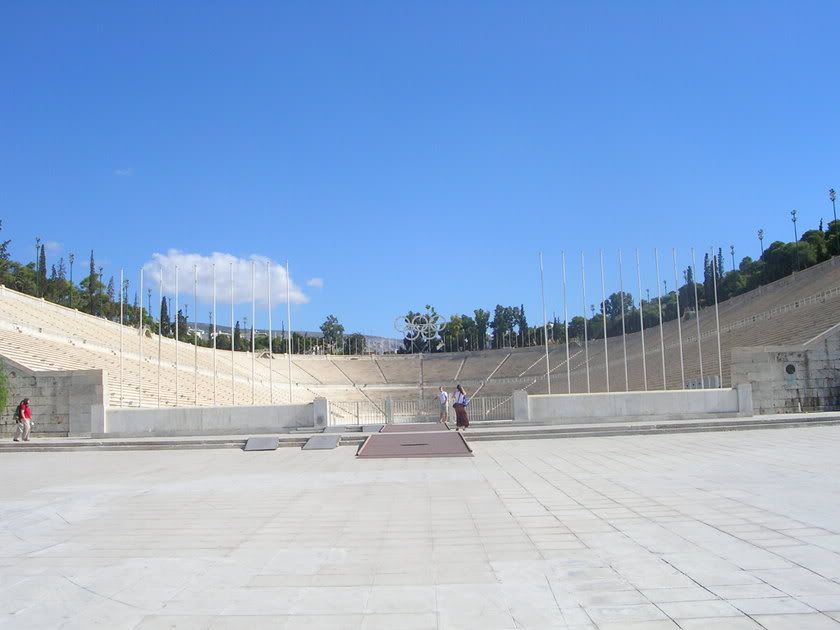 Athens!!! How I miss you and await my return!!!: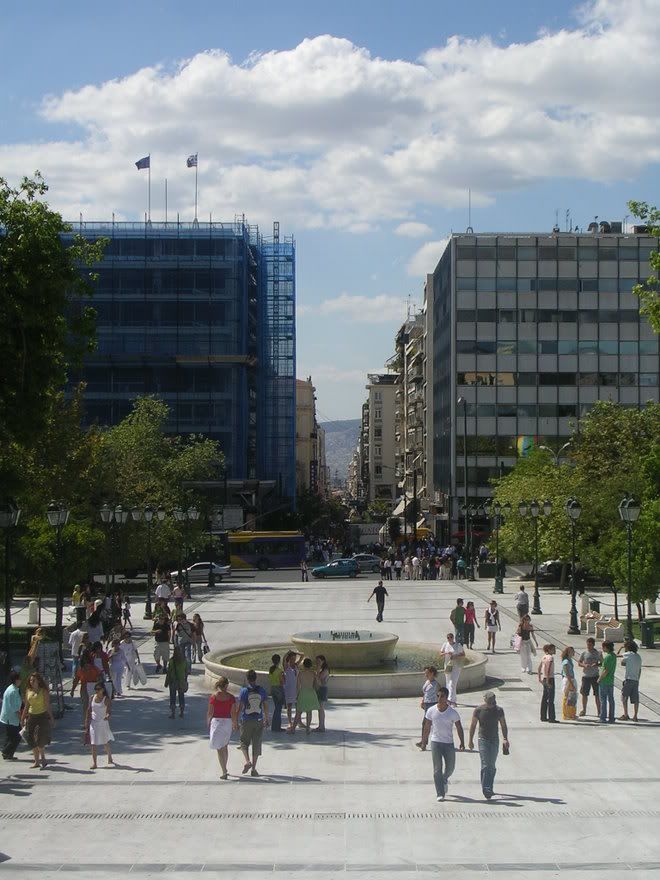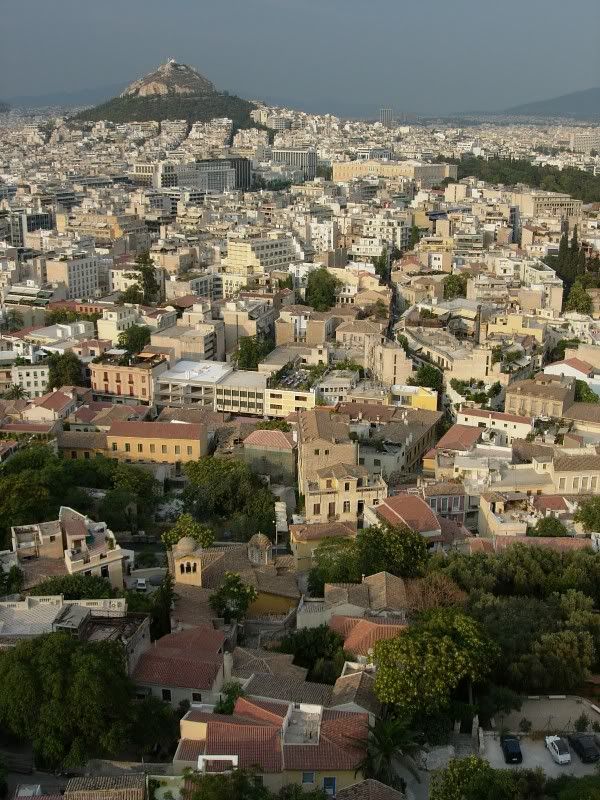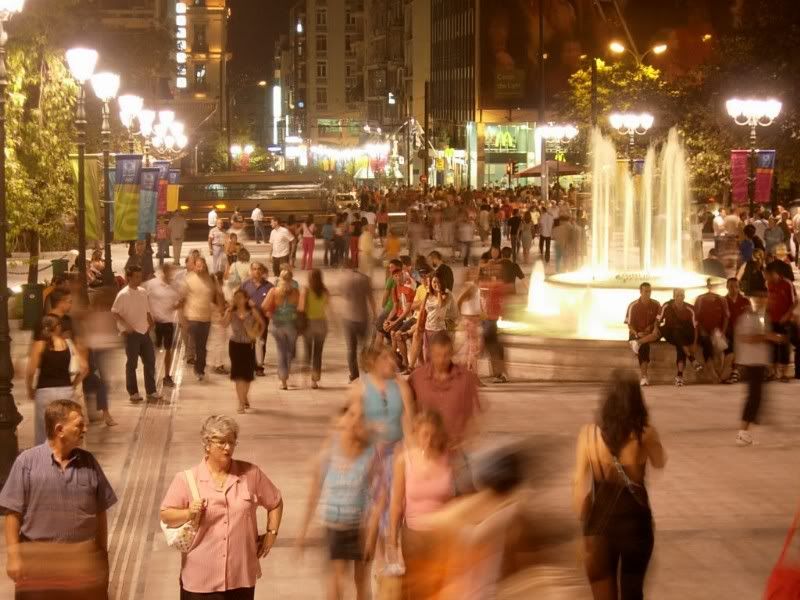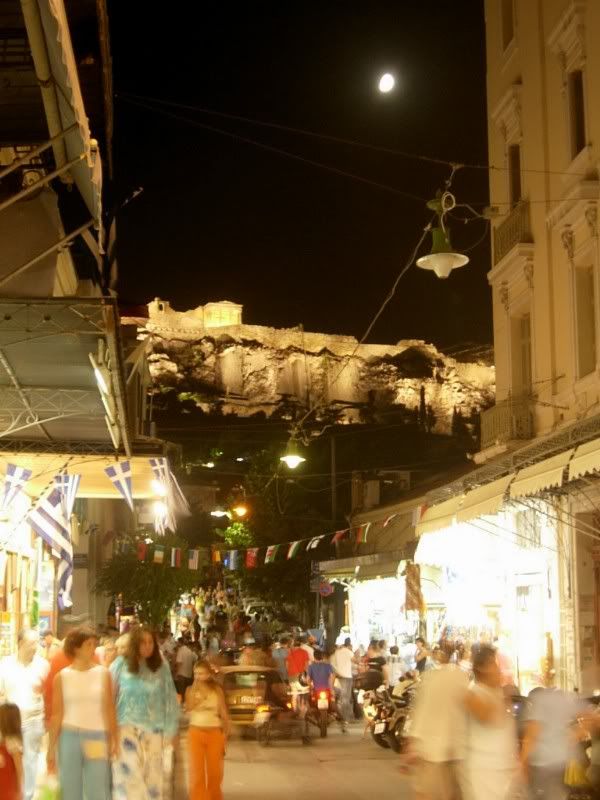 current mood:
nostalgic
Wednesday, July 12th, 2006
---
5:29 pm
- So... Israel... how much land will you take this time?
I see Israel is starting another war... I wonder how much land they will take from Lebanon now...

Lebanon is the country with the most amount of Orthodox people in it... The country is a little over a third Christian, actually.

A close friend of my is currently in Lebanon for the month visiting his family.

This just officially became personal (as if it wasn't before...)


Israel hits Lebanon after soldiers grabbed

By JOSEPH PANOSSIAN, Associated Press Writer

BEIRUT, Lebanon - Hezbollah militants crossed into
Israel on Wednesday and captured two Israeli soldiers. Israel responded in southern Lebanon with warplanes, tanks and gunboats, and said eight of its soldiers had been killed in the violence.
ADVERTISEMENT

Israeli Prime Minister Ehud Olmert called the soldiers' capture "an act of war," and his Cabinet prepared to approve more military action in Lebanon — a second front in the fight against Islamic militants by Israel, which already is waging an operation to free a captured soldier in the
Gaza Strip.

The Israeli army said three soldiers were killed in the initial raid, and four others were killed when their tank hit a land mine in southern Lebanon. An eighth soldier was killed as an Israeli force tried to get to the tank, which was part of a ground invasion aimed at rescuing the captured soldiers.

Olmert said he held the Lebanese government responsible for the two soldiers' safety, vowing that the Israeli response "will be restrained, but very, very, very painful."

Hezbollah leader Sheik Hassan Nasrallah said he will not release the captives except as part of a prisoner swap. He said the two soldiers were "in a safe and very far place."

"No military operation will return them," he told a news conference in Beirut. "The prisoners will not be returned except through one way: indirect negotiations and a trade."

Israeli jets struck deep into southern Lebanon, blasting bridges and Hezbollah positions and killing two civilians, the Lebanese officials said.

The Israeli military planned to call up thousands of reservists, and residents of Israeli towns on the border with Lebanon were ordered to seek cover in underground bomb shelters.

The Israeli stock market plunged on word that two more soldiers were captured and that Israel was getting entangled in a second front against Lebanese guerrillas. The exchange's TA-25 blue chip index sank as much as 4.9 percent in exceptionally heavy trading. It rose slightly in afternoon trading to close down 4.2 percent.

The United States, U.N.,
European Union, France and Germany expressed deep concern about the fighting. U.N. Secretary-General
Kofi Annan called for the immediate release of kidnapped Israeli soldiers and condemned Israel's retaliation in southern Lebanon.

Secretary of State
Condoleezza Rice said the Hezbollah action went against the interest of the Lebanese people, and that
Syria has a "special responsibility" to resolve the crisis.

"All sides must act with restraint to resolve this incident peacefully and to protect innocent life and civilian infrastructure," she said ahead of meetings in Paris.

Separately, Israel escalated its Gaza assault, killing 23 people.

Israeli attacks in the central Gaza town of Deir Al-Balah killed 12 people, while two people were killed in separate incidents elsewhere in Gaza.

Israel also dropped a quarter-ton bomb on a home in Gaza City before dawn to try to kill top Hamas fugitives. Palestinian hospital officials said the blast killed nine members of a family — seven children and two parents.

After initially claiming its leaders had escaped harm, Hamas militants took over the intensive care unit of Gaza City's main hospital, where doctors said seven militants were in critical condition. The gunmen refused to say who was being treated.

The Israeli military said Mohammed Deif, the leader of the Hamas military wing and No. 1 on Israel's wanted list for more than a decade, was among the wounded.

The Shiite Lebanese Hezbollah said it captured the two soldiers to help win the release of prisoners held in Israel. Hamas had made identical demands in seizing Cpl. Gilad Shalit on June 25.

A top Hamas leader said his movement did not coordinate with Hezbollah over the capture of the soldiers but said it was "natural" for the groups to work together against Israel.

"Now Israeli has to decide on its choices," Osama Hamdan, Hamas' spokesman in Lebanon, told The Associated Press. "It is early to talk about details of the exchange, but no doubt the operation carried out by Hezbollah today will strengthen our demands to exchange the captives."

Israel, however, appeared determined to win freedom for its troops with a show of force.

Army Chief of Staff Lt. Gen. Dan Halutz warned the Lebanese government that the Israeli military will target infrastructure and "turn back the clock in Lebanon by 20 years," if the soldiers were not returned, Israeli TV reported.

Israeli troops crossed into a southwestern sector of Lebanon, across the border from where the soldiers were seized, trying to keep their captors from moving them deeper into Lebanon, Israeli security officials said.

Israeli warplanes and gunboats blasted bridges and Hezbollah positions in south Lebanon, killing two civilians, the Lebanese security officials said.

The Israeli jets made their deepest foray in an afternoon strike on a road in the Zahrani region along the Mediterranean coast — about halfway between the border and the capital of Beirut. Anti-aircraft guns opened fire on jets flying over the coastal city of Sidon.

In the evening, warplanes made their closest strike to Beirut, hitting a Palestinian guerrilla base 10 miles to the south.

The Arab League planned an urgent meeting on the crisis Thursday amid "fears of widening of tension and possible Israeli strike against Syria," which backs Hezbollah, a senior league official in Cairo said, speaking on condition of anonymity because of the sensitivity of the issue.

Syrian Vice President Farouk al-Sharaa blamed Israel for the escalating violence in Lebanon and the Palestinian territories and denied his country had a role in either abduction.

"It's up to the resistance — both the Lebanese and the Palestinian — to decide what they are doing and why are they fighting," he told reporters in Damascus.

U.S. Assistant Secretary of State David Welch, visiting Cairo, said the capture of the two Israeli soldiers was "a very dangerous escalation" that "puts at risk all the effort that's being put forth by many to find a solution to the current situation."

Jubilant residents of south Beirut, a stronghold of Hezbollah, and Palestinians in the Ein el-Hilwa refugee camp fired guns in the air and set off firecrackers in celebration after the capture of the Israeli soldiers was announced.

The top U.N. official in Lebanon, Geir Pedersen, met with Lebanon's prime minister and denounced Hezbollah's incursion across the border into northern Israel, known as the Blue Line.

"Hezbollah's action escalates the already tense situation along the Blue Line and is an act of very dangerous proportions," he said in a statement.

Elsewhere, Israeli troops killed a Hezbollah guerrilla as he tried to infiltrate a military base in northern Israel. The army said Hezbollah also fired rockets toward the Israeli border. There were no reports of injuries.

Hezbollah's military arm said its fighters captured two Israeli soldiers "on the border with occupied Palestine, fulfilling the promise to liberate its prisoners" held by Israel.

Hamas-linked militants have demanded the release of at least some of the estimated 9,000 prisoners held by Israel in exchange for Shalit's freedom. Israel has carried out several prisoner swaps with Hezbollah in the past to free captured Israelis.

Israel occupied a small strip of southern Lebanon for 18 years before withdrawing in 2000 amid public complaints in Israel. Hezbollah fighters have controlled the Lebanese side of the border since then. Israel and Hezbollah have been clashing for two decades and still fight over a small sliver of border territory — Chebaa Farms.

Lebanon is under U.N. and U.S. pressure to disarm the Shiite guerrilla group and move its own military into the south, but the government has refused to do so, calling Hezbollah a legitimate resistance group.
Friday, June 30th, 2006
---
1:45 pm
- I hate penalty kicks.
I knew we would loose to penalty kicks... we SUCK at them and on top of that we had a substitute goalie.

The referee was an ass. Germany can kick us in the face and what?? No penalty. Fuckin TOUCH a German with your pinky and it was a penalty. FUCK THAT.

I'm half German. I'm pissed off at them now. Fuck Germany.

FORZA ITALIA.

or

Go England!

which ever makes it.


Damnit... now I have to change my ringtone.

current mood:
pissed off
12:16 am
- A short history of Palestine...
What is quoted below is some dude in some community's statement about the history of the Holy Land. I found what he said CRIME TO HISTORY so much that I have an entire (abridged) history of the land. It was so long to wrote and I'm so happy with it that I decided to share it:



"keep in mind that the Jews controlled that land from about 1100BC up until Rome occupied it, even then, the culture was primarily jewish. After the fall of Constantinople in the 500sAD(I think) the Jews again had control, up until the sacking of the desert tribes by Mohammad's grandson in the late 800s/early 900s.

This is so OFF that I don't even know where to start.

First, you forget to mention that prior to the Jews, the native Canaanites and Philistines were there.

Dude... the fall of Constantinople was in 1453... NOT the 500's. Bro, I don't know how you can get that wrong... your almost ONE THOUSAND YEARS off. In 70 AD. there was a Jewish revolt against Roman control (which had been taken over from the Greeks who previously ruled the Holy Land. Then before them, the Persians and Babylonians variously had control. The Holy Land was FAR FROM stable even then... actually... the Hebrews ruled themselves for a relatively short time frame) and they were expelled from Jerusalem and the Jews that remained hid. Palestine was under Byzantine (more accurately "Eastern Roman"... The Byzantine Empire is simply the Roman Empire after Constantine moved the capital from Rome to Byantium in the 4th century which he renamed "Constantinople") control until the end of the 6th century when the Persians briefly occupied it. Then came the Arab Muslims in the beginning of the 7th century (Palestine was one of the first territories to go under Arab control). Then I believe it was the 12th century that the Seljuk Turks took Palestine. Then about a century later came the Crusades when the Latins briefly controled Palestine. Then under Salahdin Palestine was returned to Turkish Control. Then when the Ottoman Turks arose out of the Suljuks in Asia minor they took Constantinople in May of 1453. Palestine came under Ottoman control and remained Ottoman until WWI When the Ottoman Empire Fell apart, and the Middle East was carved up to for each European country. Britain got Palestine. Meanwhile, the first Zionist congress had already been held by Theodore Hertzel in I think it was something like 1897 to determine a "homeland" for Jews, and it was a choice between Argentina and Palestine. They chose Palestine, and already started moving in with the intention of populating the Holy Land with Jews to make their own nation eventually (this is why there was the oh so famous cummunes, the "kibutz"). Then after WWII Britain (who had already promised the Palestinians a nation) promised the Jews a nation. the UN decided to split it 50/50... but the Jews would have that and decided to instead take what they wanted (which was quite more than what the UN gave them), so in 1948 started a revolution, and there you have it, the birth of the modern state of Israel. Then in 1967 in a preemptive strike (much like the American invasion of Iraq) Israel went to war with Syria, Egypt, and Jordan. They took the West Bank from Jordan (including East Jerusalem... the Old City), The Golan Hieghts from Syria, and the The Gaza Strip and Sinai Peninsula from Egypt. They eventually gave the Sinai Peninsula back, but Israel still illegally occupies the other three territories. They eventually started settlements (little Jewish colonies) in the occupied territories. They even moved their captital to a part of occupied territory (from Tel Aviv to Jerusalem), which is against the modern rules of warfare.

And there is my abridged version of the History of Canaan/Kingdom of Israel/Judah/Samaria/Palestine/The Modern State of Israel/the Palestinian Territories.

I dont know who taught you that crap about the Jews getting it back in the 500s until the 900s when the Arabs came. Or the worst on yet, that "Constantinople fell in the 500s". Whoever did, I'd like to slap them, for they are the worst offense to history I ever heard of."

current mood:
tired
Friday, June 23rd, 2006
---
10:48 pm
- Che, You know you are an Argentinean when...
- u call your grandmother "nona" and your grandfather "nono"

- you have missed work only to see your club team or argentina nationl team play in an important game

-you hang out at la kueva or la oveja negra in queens...

-you have heard or eaten in restaurant called "los guachos" "la portena""buenos aires bakery, La Fusta,
boca juniors steak house, Tango Mambo,

-you have someone in your family they call "el tano", "el negro", "el turco", "el cabezon"...

-you have tried pizza "la fugazza" y "la faina"

- they are a million recipes of making empanadas! argentinean empanadas are still ranked the best!

- u have a spanish first name but your last name is either an italian, jewish, german ,french, british. arabic. swiss.turkish.austrian.spanish,etc.....

- your parents still listens to tango and dances it at argentinean parties.

-u know what morcillas, chinchullin, mollejas, provoleta are?

- you have been to at least one rolling stones concert

- u eat sunday dinner with the family and its always some type of pasta or asado y vino....

- u eat panqueque de dulce de leche for breakfast.

- u see at least someone wearing a soccer jersey in the streets of your "barrio"

- At any time of the day, a cafe con leche and 2 medialunas can be considered a square meal

- cojer y agarar are two different meanings**

- You can, at all times, find a heladeria within 3 blocks

- You would much rather be a gallina ratheer than a bostero de mierda, and you know what that means.. [Vamo river todavia )

- In your barrio, there are more people on the streets at 3 am than 3 pm

- Que se yo?

- Nothing is good anymore, it's "barbaro"

- You have learned how to get across Avenida Libertador without getting run over, before the pedestrian light even turns green

- You have accepted the fact that you cannot successfully walk across 9 de Julio before the lights turn red, because everyone KNOWS it's the widest avenue in the WORLD

- You instinctively cross yourself everytime you pass a church, even when riding on the bus

- Your guia Lumi is old and falling apart, but you still won't leave home without it

- You can walk the entire length of Florida without being heckled once by a money-changer or flyer distributor

- $80 is far too much to pay for anything, unless, of course, it is an unbreakable mate thermo

- You can estafar, zafar, and continue to the farra with all the other porteos

- You have any idea what the last line means

- You actually know the historical figures the streets are named after

- You start to give false directions to tourists

- You consider both superpanchos and choripan to be hearty meals

- Based on taste alone, you can pick out a Terrabusi alfajor in a double-blind test

- You complain about everything while in Buenos Aires, but as soon as you leave, you begin to miss it..

- Upon getting into a taxi, instead of stating your destination, you give a series of turns and street names, entering into a battle of wits over who knows the grid best

- You generally communicate better in gestures than actually conversing

- You know the attractive women all over Palermo Hollywood are really men, but that's OK

- You think nothing of hopping on a bus for 15 hours to get away for the weekend

- You don't find it surprising that 2 of these hours are spent leaving the city

- No matter how hectic life gets, you can always find time to matear

- Nothing is cool anymore, it's re canchero. You and your friends, (who are all capos and copados, obvio) are re chochos because you just saw a recital that was piola.

- You have forgotten your name and now only answer to a string of epithets, such as che, maestro, flaco, papA, pibe, chabon, etc.

- You don't coges el bus, you subis al bondi

- You don't go out to comer, you go out to morfar

- You have come to accept the fact that Buenos Aires sometimes huele a mar, even though it's a five hour drive to the ocean

- Fito Paez just passed by on the street and nobody seemed to notice

- A bar at a car wash, a Kosher McDonald's, and a Museo del Jamon all seem to make sense, somehow

- You know where to see the movies for 2 mangos, but still go to Village Recoleta because it's " re top"

- You know that a Disco is not a place to dance or a genre of music, but a place to buy food

- You eat sandwiches without crusts, pizza with a knife and fork and empanadas with your fingers

- You find yourself eating oquis on the 29th of each month, and not really knowing why

- You stay out till 6 am at a boliche but are still fresh as a daisy for your class at 9

- You mix ketchup and mayo, slather the beastly concoction on everything, and have the audacity to call it "salsa golf"

- You begin to wonder how Washington D.C. got off copying the obelisco, why London stole Buenos Aires' phone booths and letter boxes, and why Milan's La Scala operahouse had to steal the blueprints for Teatro Colon

- You get used to the fact that though you live in a port city, you rarely, if ever, see the waterfront.

- You don't find it at all confusing that there are streets called Pea, Rodriguez Pea, Luis Saenz Pea and Roque Saenz Pea, all in fairly close proximity. Nor that there are an Yrigoyen and Irigoyen that intersect, despite their different spellings.

- It makes perfect sense that the seediest redlight bars are directly alongside Recoleta cemetery, where the Argentine aristocracy is buried

- Spice is no longer a condiment to be put on food, but a television channel replete with B-grade SciFi films

- You are nostalgic for the bygone days of Carlos Gardel, or of Evita's Casa Rosada speeches, or even Maradona's "hand of God" goal, even though you never saw any of them

- You can get everything delivered to your departamento...from munchies to mariachis

- You consider it rude when you throw a party and people show up on time, while you are still making preparations, obvio...

- You feel comfortable wearing alpargatas just about anywhere

- You can't imagine drinking coffee without briskly following it with a shot glass of mineral water

- You know all the parts of a cow and you're not a butcher or a veterinarian

- You have ever considered growing out a mullet

- You get mugged and ask for your wallet back

- You refer to everything outside the capital as the "interior" of the country

- You realise that Neuquen is a palindrome, Salta a command and Buenos Aires a cruel joke, given the level of air pollution

- No weekend feels complete without a trip to the feria

- You are a self-made expert on EVERYTHING

- Your favourite thing to do is fiaca, the special action of not doing anything

- You drink your mate amargo but eat dulce de leche on everything

- You realize that when there is a superclasico, everything halts for el futbol

- You can find Evita's grave blindfolded, and know that Carlos Gardel is buried in Chacarita, even though nobody knows for sure where he was born

- Your swear words include colourful descriptions of the birthing process and the private parts of a parrot

- Everything is a quilombo

- It seems normal that professional dog walkers are dragged around by up to 20 canines, and that there is a bus to cart dogs

- You don't call it the Falkland Islands, you call it "LAS MALVINAS"no matter what an old bitch called margaret thatcher says

-You don't think rugby, lacrosse and polo are just white people's sports, we kick ass at all of them
Tuesday, January 31st, 2006
---
3:17 pm
- "Identity Card"
"Identity Card"
by: Mahmoud Darwish

Record!
I am an Arab
And my identity card is number fifty
thousand
I have eight children
And the ninth is coming after a
summer
Will you be angry?

Record!
I am an Arab
Employed with fellow workers at a
quarry
I have eight children
I get them bread
Garments and books
from the rocks..
I do not supplicate charity at your
doors
Nor do I belittle myself at the
footsteps of your chamber
So will you be angry?

Record!
I am an Arab
I have a name without a title
Patient in a country
Where people are enraged
My roots
Were entrenched before the birth of
time
And before the opening of the eras
Before the pines, and the olive trees
And before the grass grew

My father.. descends from the family
of the plow
Not from a privileged class
And my grandfather..was a farmer
Neither well-bred, nor well-born!
Teaches me the pride of the sun
Before teaching me how to read
And my house is like a watchman's
hut
Made of branches and cane
Are you satisfied with my status?
I have a name without a title!

Record!
I am an Arab
You have stolen the orchards of my
ancestors
And the land which I cultivated
Along with my children
And you left nothing for us
Except for these rocks..
So will the State take them
As it has been said?!

Therefore!
Record on the top of the first page:
I do not hate people
Nor do I encroach
But if I become hungry
The usurper's flesh will be my food
Beware..
Beware..
Of my hunger
And my anger!




I really like this poet. He is a Palestinian who has gone through it all, and through poetry show's his passion for his people.
11:36 am
- I heart Turkish people!!!
Yeah so... I went to a Turkish restaurant this weekend and it was SOOOOOO good. The food is quite wonderful. It's like almost the same as Greek food, with a slight difference.

Not to mention that the girls who work there are straight off the boat and some of the most beautiful girls I've ever seen in my life... I mean like... wow.

İstanbul'a giteceğim. I'm so excited!!

current mood:
excited
Monday, January 30th, 2006
---
3:39 pm
- Ideas?
So yeah... these are my ideas for my paper in "Contemporary Islamic Theology"(tell me what you think, or which one I should go for, I will list what I have so far in order of preference):


1. Sufism and it's relation to the Orthodox (Christian) East


2. Traditional Islamic views on Sufism


3. Turkey: Islam in a Secular country
1:48 pm
- Teehee...
A professor of mine said today...

"What did the Greeks do to entertain themselves?? They played! They ran, jumped, threw things (The Olympic Games)"

"What did the Romans do to entertain themselves? They killed each other! (Gladitorial Games)"
Monday, January 23rd, 2006
---
12:32 am
- Woot, what up school........
So yeah, I started class last week. fun times. These are my classes:

Western Music II(It's mandatory... :()
Great Christian Thinkers(Looks interesting... but hard)
Abnormal Psychology(Yay! for crazy people...)
World Literature(again... it's mandatory... but this may turn out to be interesting)
Biblical Heritage II(Gotta love all of Fr. Pentiuc's classes...)
Contemporary Islamic Theology(Ahhh... my first class at BC... a real school... it's a lovely class. We seem to be started off with REALLY basic things(i.e. "What are the 5 pillars of Islam?))

So anywho... internet isn't working in my room. I'm sitting here in my friend's room right now. I have no idea why it's not working... lol probably viruses. Anywho, as I mentioned before... I really like my elective at BC. So much so that I'd be willing to transfer there... but there are 2 reasons why I am not/can't. One is that I'm a senior next year, and I can't tranfer and then graduate in one year. The other is the major I would be taking. I would switch to the "Mideast and Islamic Studies" department, because (no offense to them) I sure as hell don't want Roman Catholics teaching me Theology. Anywho, it's aight, I only have one year left.

I'm also 90% sure that I'm going to live off campus next year. I'm going to try to get a 2 bedroom apartment next year with 4 people. So far we have 2 (me and Andrew). There are MANY benefits to having an apartment as opposed to living here:
1. My own bathroom. No more public crap bathrooms
2. I'm sick and tired of the conservative-ass-shitty rules at this place (i.e. no guys on the girls side (and visa-versa) after "hours" which means past 11:00 on week days, and 12:00 on weekends... with my own apartment I can have people of the opposite sex over whenever... the can even ::gasps:: God forbid... sleep over)
3. I, as a man in my 20's like to have a drink every once in a while. I can do that. Hell, I can invite others over to do the same. Also, I wish to be able to smoke without having to try to hide myself on some obscure place on the campus
4. It will save me about $3,000 a year on room and board
5. I don't have to eat the shitty-ass food here, I can go get REAL FOOD.
So anywho, God-willing this whole apart thing works out. I saw some for like $1250 a month. Thats not bad... it's about $325 a person. thats actually really good. Anywho, we'll see what we have in Fall.

Also, can you believe that it was a year ago today that I left for Greece??? Crazy stuff.

Also, I can't wait to go to Istanbul in March!!!!

current mood:
hopeful
Thursday, January 12th, 2006
---
3:01 pm
- Yay!
You scored as Chalcedon compliant. You are Chalcedon compliant. Congratulations, you're not a heretic. You believe that Jesus is truly God and truly man and like us in every respect, apart from sin. Officially approved in 451.



| | | |
| --- | --- | --- |
| Chalcedon compliant | | 92% |
| Pelagianism | | 83% |
| Nestorianism | | 75% |
| Monophysitism | | 42% |
| Modalism | | 33% |
| Donatism | | 25% |
| Apollanarian | | 25% |
| Gnosticism | | 8% |
| Monarchianism | | 0% |
| Adoptionist | | 0% |
| Arianism | | 0% |
| Docetism | | 0% |
| Albigensianism | | 0% |
| Socinianism | | 0% |


Are you a heretic?
created with QuizFarm.com
Friday, December 9th, 2005
---
1:48 am
- HAHAHAHA
I CANNOT WAIT to go to Turkey

Let's just call it even, okay?

Thu Dec 8, 9:42 AM ET

ISTANBUL (Reuters) - A Turkish villager who ran away with his friend's wife has offered his own wife in exchange, newspapers said on Thursday.
ADVERTISEMENT

Farm laborer Cengiz Esme said Gulhan, his wife of 18 years, disappeared a month ago after leaving their village to go shopping in the southern Turkish town of Tarsus.

The 36-year-old said his village friend Mehmet Yaksi had telephoned him the next day and said: "I've run off with your wife .... You take my wife," the Radikal daily reported.

Esme pleaded for Gulhan to return and said he was ready to forgive her and make a fresh start elsewhere. The reports said Yaksi's wife, a mother of three, declined to comment on the situation.

current mood:
tired
Tuesday, October 4th, 2005
---
10:12 am
- Hmmm...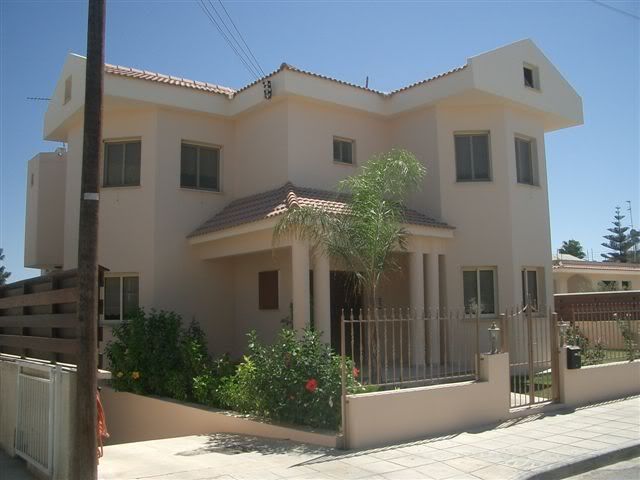 "::pouts:: Oh I'd love to get a house out there if I only had the money" -- Older Stewie

And it's only £360,000(LOL... thats $750,000).

We should all move to Cyprus. Now.
Friday, September 23rd, 2005
---
12:08 am
- A taste of home...
Mmmm...

Went to an Argentinian restaurant tonight with Haris, Panayioti, and Katerina...

It was AWESOME...

I had Empanadas, Parrillada (blood sausage... sausage... pork chops, sweetbread, chicken, kidney... all so VERY Argentinian), and wine from Mendoza. I felt like I was with my family on my father's side eating again... so VERY good.

I got lost on the way home... crazy stuff. We made it though.

Now I'm dead tired.

current mood:
exhausted
Wednesday, September 21st, 2005
---
12:42 am
- I want nargile!!!!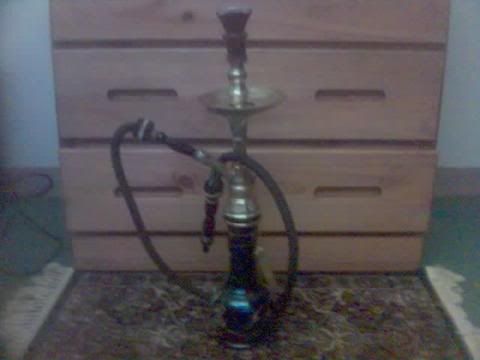 Look at it... sitting there waiting to be used.

I have wanted to smoke since saturday but I have nobody to smoke with. Andrew keeps on saying he will and then doesn't.

Than tonight a couple people said they would, then they were nowhere to be found.

I really really want nargile!!! I haven't had it in a while...
12:41 am
- Some interests survery thingy...
LJ Interests meme results


boston:
It's where I go to school. Sure, the weather sucks but it's still an awesome city
cordoba:
Ahhh... the ancient capital of Muslim Spain... Spain's glory days...
eastern orthodoxy:
It's my religion and therefore the most important thing... God = awesome
granada:
Granada = by far the BEST city in all of Spain
istanbul:
Istanbul... the capital of 2 awesome empires... first the Roman ("Byzantine") Empire, than the Ottoman Empire.
miranda stone:
The BEST folk rock singer EVER
orthodox:
see # 3
rebetiko:
The "blues" in Greek music... a musical type from the refugees of Asia Minor in the 1920's
smyrni:
A beautiful city. It was a centre of commercial trade and culture. It was a city of mostly Greeks until the 1920's when they were forced to leave.
theosis:
The ultimate goal of every Orthodox Christian... to partake in the Divine Nature of God. We become "adopted sons of God" by Grace. This is what we strike for on earth but we will never achieve fully until the end of time.


Enter your LJ user name, and 10 interests will be selected from your interest list.
Saturday, September 17th, 2005
---
11:49 pm
- Hey Hey...
I'm here at my College. It's nasty out (stupid creepy tropic storm). I'm also really. bored.

I have an interesting question...

Who TRIES to smell like cigarettes???: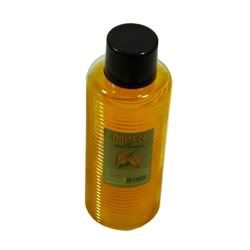 Tütün Kolonyası (Tobacco Cologne)
http://www.tulumba.com/storeItem.asp?ic=FB424501BB987

Although, I HAVE heard girls say that the faint smell of cigaretts is sexy... but honestly...

Anywho, this is the most awesome hat ever... but when would I wear it???: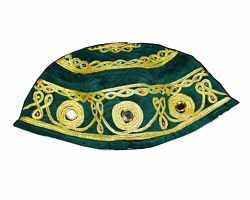 http://www.tulumba.com/storeItem.asp?ic=PA447878UY764

It's a "traditional Folklore cap" from Turkey...
AWESOME

I'm still bored.